Scratching Post are:
Nicole Hughes -vocals, guitar

Mark Holman -guitar, back-up vocals

Jeff Depew -drums

Phil Zeller bass, back-up vocals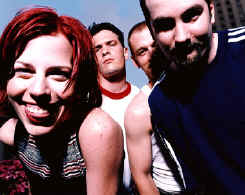 Scratching Post was formed in the summer of 1992 in London, Ontario by one angel- throated, power-chorded Nicole Hughes. In September 1995, after three years of wayward gigging and personnel hassles, the band's sound solidified and intensified with the addition of Jeff Depew on drums and Mark Holman on on guitar. Phil Zeller assumed bass duties in July of '96.
Scratching Post released their self-titled CD-EP in November of '95, following it up in March '96 with their energetic full-length album "Flamethrower", modestly released on indie label Squirtgun Records Canada. Produced by Rob Sanzo (Treble Charger, Voivod), "Flamethrower", with its crushing riffs and babydoll vocals, was received with widespread critical acclaim, spending months on the Canadian campus radio charts. The record mixed the two elements that Scratching Post loved the most - infectious pop melodies and the most bruising of metals!
Scratching Post then released a video for 'Master of Action" directed by the award- winning artist Stephen Scott which, 2 years later, still receives regular play on MuchMusic. The remainder of 1996 and 1997 saw Scratching Post touring Canada with their high-energy live show.
In July of 1998, Scratching Post ventured down to Conshohocken, PA to mix the material with famed producer Phil Nicolo (Urge Overkill, Life of Agony).
"Destruction of the Universe" was released late 1998. The album rose all the way to number 2 in the Canadian college charts. Videos for "Bloodflame" and "Rock Past It" was released on MuchMusic, and did considerably well, with Rock Past It reaching medium rotation for a while (not bad for just a independent band). The band toured across Canada in 1999 with the Headstones across the Western Canada and Big Sugar across the Eastern Canada.