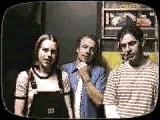 Early (1995) SP interview
NOTICE! There's been some problems with the link because the file is too big. So it may or may not download for you. I'm currently trying to find another free web-host that will be able to handle big files such as this one better.
This is a small video clip is a interview with Scratching Post from 1995! The band answers the time old musical question of why they became a band. Nicole is the only original member from back then, and I don't know who the other 2 guys are (if you know who they are, send me their names). This clip is taken from Treble Charger's Self=Title Online 'zine. This movie can be viewed using Apple Quicktime.